On October 22-24, 2015, millions of Jews in over 900 cities in 75 countries around the world joined as one, in celebrating a unique, cohesive and meaningful Shabbat coordinated by The Shabbos Project. Shabbat San Diego was the organization implementing this program in San Diego, tailored to the demographics of our community.
Thank you for participating in Shabbat San Diego and making this year a resounding success.
See you next year!
Get ready for the most incredible weekend of the year:
WATCH THE VIDEO
SEE THE SHABBAT SAN DIEGO COMMERCIAL
THE SHABBOS PROJECT
INTERNATIONAL VIDEO
SPECIAL MESSAGE TO SAN DIEGO
From Chief Rabbi Warren Goldstein
Join over 20,000 San Diegans:
MAKE THIS SHABBAT YOUR SHABBAT!
---
---
6:30pm
Coastal Location
San Diego Jewish Academy
11860 Carmel Creek Rd
San Diego, CA 92130
East County Location
Tifereth Israel Synagogue
Social Hall and Patio
6660 Cowles Mountain Boulevard
San Diego, CA 92119
(619) 697-6001
www.tiferethisrael.com
---
Friday / Saturday:
It's Time to Say "Shabbat Shalom"!
Community and Private Home Shabbat dinners; Saturday Services, lunches, lectures, Seu'dat Shlishit
---
7:30 pm
Transformed Town & Country Conference Center
Centrally located in Mission Valley
---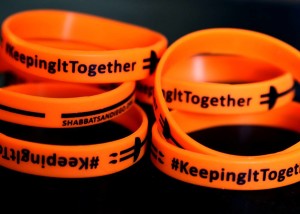 For Shabbat San Diego events listed by geographic areas (Major Events; La Jolla area; North County; Mid-Town; East County; South County)

Security Provided by: 

From Sunset to Stars Out
INTERNATIONAL UNITY SHABBAT
We are about to embark on an inclusive, meaningful experience as individuals, as families and as a local community connecting with worldwide Jewry. Together with over 130 local congregations, community organizations, schools and youth groups, we are planning a unique free three day experience to inspire more than 20,000 Jewish San Diegans to join in a complete traditional Shabbat experience that is educational and non-judgmental. We strive to ensure that every denomination, affiliation, ideology and political persuasion is fully engaged, involved and genuinely welcome.

The sun is going down, it's shining through the tree
Another week's gone bye, become a memory,
So throw away your hammer, there's nothing left to do,
Go on home and find the gift that's waiting for you.
(From Abie Rotenberg - It's time to say Good Shabbos)

SHABBAT SAN DIEGO 2015 Objectives:
• Individuals have their most meaningful Shabbat yet
• Conduct this Shabbat as a unified community
• Enjoy global identity, pride and solidarity
AND invite EVERY one of the 50,000 San Diego Jewish households to a SHABBAT DINNER

What can you do to ensure that all enjoy this Shabbat?
1.
Register
yourself and your family;
2.
Volunteer
to be part of the Shabbat San Diego Team.
3. Ask all your friends to register and participate and ask them to ask their friends;
4.
Share
the names and email addresses with us of all the unaffiliated Jews you know in the county;
5. Share your ideas with us.

MAJOR SPONSORS
Leichtag Foundation
San Diego Private Bank
SAJAC
Isakow Foundation
Sunroad Automotive Group
Ellman Family / Gerber Goldschmidt Group
Blanchard, Krasner & French
Jewish Federation of San Diego County
Klein Family
Northwestern Mutual
Westfield Properties
MAJOR IN-KIND CONTRIBUTORS
Jewish Federation of San Diego County
Jewish Community Foundation
LMA Worldwide Marketing & Advertising
Cadence Travel/Wendy Burk
Westfield Properties